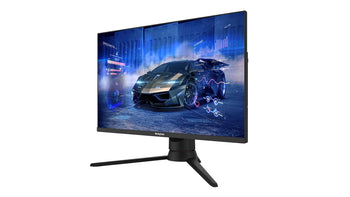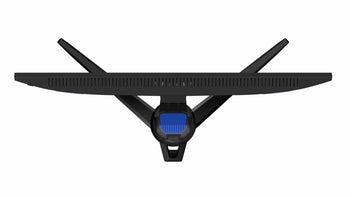 27″ Full HD 144Hz AMD FreeSync Gaming Monitor
Full High Definition (FHD) Image resolution with unparalleled quality and clarity. Double the image resolution of traditional HD monitors.
144Hz Refresh Rate Gaming looks smoother, controls will be more accurate, movement will be real time with less input latency.
AMD FreeSync Supports variable refresh rates to eliminate screen tearing, input lag and shuddering during game play.
Full High Definition (FHD)
Image resolution with unparalleled quality and clarity. Double the image resolution of traditional HD monitors.

AMD FreeSync
Supports variable refresh rates to eliminate screen tearing, input lag and shuddering during game play.

Game Modes
FPS, RTS, Crosshair modes to increase realism and the overall game-playing experience.

Headphone Hanger
Easily locate and store your gaming headset! Can be pulled in or out from the side of the monitor.

144Hz Refresh Rate
Gaming looks smoother, controls will be more accurate, movement will be real time with less input latency.

Wider Color Gamut
Brighter more vivid colors for more realistic images.

RGB Light Customization
Back panel RGB lights to customize your gaming experienc
Full High Definition (FHD)
Image resolution with unparalleled quality and clarity. Double the image resolution of traditional HD monitors.

AMD FreeSync
Supports variable refresh rates to eliminate screen tearing, input lag and shuddering during game play.

Game Modes
FPS, RTS, Crosshair modes to increase realism and the overall game-playing experience.

Headphone Hanger
Easily locate and store your gaming headset! Can be pulled in or out from the side of the monitor.

144Hz Refresh Rate
Gaming looks smoother, controls will be more accurate, movement will be real time with less input latency.

Wider Color Gamut
Brighter more vivid colors for more realistic images.

RGB Light Customization
Back panel RGB lights to customize your gaming experienc
Specifications
| | |
| --- | --- |
| Product size (wxhxd) w/ stand | 24.28" x 18.73" x 10.96 |
| Product size (wxhxd) w/o stand | 24.28" x 14.30" x 2.14 |
| Product weight w/ stand (lbs) | 14.66 lbs |
| Product weight w/o stand (lbs) | 9.99 lbs |
| Product box size (wxhxd) | 27.56" x 17.92" x 7.72 |
| Product with box weight (lbs) | 21.54 lbs |